Includes a running list of characters who are only known by the name of Aaron.
Teen Wolf
Edit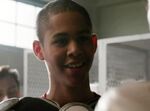 Aaron was a young black man who entered into Beacon Hills High School as a Freshman. He enrolled in the school's lacrosse team and received words of encouragement from seniors Liam Dunbar and Mason Hewitt. Unfortunately, Aaron never got the chance to make it to First Line. He was attacked by an unseen menace, which resulted in hordes of spiders exiting from his body. Liam and Mason later went into a dark classroom where they saw someone whom they believed to be Aaron sitting down, supposedly studying for a history exam. (Teen Wolf: Raw Talent)
The Walking Dead
Edit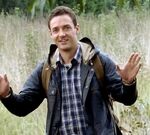 Aaron is a fictional character featured in the AMC survival horror television series The Walking Dead. Played by actor Ross Marquand, he first appeared in the season five episode, "Them".
Aaron was a young homosexual man in his late twenties or early thirties who lived in the state of Virginia. Along with his lover, Eric, he was a member of the community known as the Alexandria Safe-Zone. Aaron and Eric were tasked with finding new recruits to bring back to Alexandria. Taking note of a group of thirsty travelers shambling down the road, he left behind several jugs of water and a note that read, "From a friend". Aaron later encountered Maggie Greene and Sasha Williams, who immediately drew their guns upon him. Aaron waved his arms as if to surrender, assuring them that he was not a threat. They brought him back to the barn that the group had been temporarily using as a shelter from a storm. Rick Grimes, immediately distrustful of any human, punched him in the face and then tied him to a wooden beam. Aaron explained where he was from and how he had been looking to find more survivors to invite to the group. Nobody was ready to take Aaron at his word, though Michonne and Glenn Rhee were both desperate to find a place to settle down. After recovering two vehicles that the men had used, they drove towards Alexandria via an uncleared highway and encountered several herds of walkers. Glenn cut Aaron loose so he would be able to defend himself. They eventually reached an abandoned building some distance away from the safe-zone where Aaron was reunited with Eric, who had broken his ankle.
Ad blocker interference detected!
Wikia is a free-to-use site that makes money from advertising. We have a modified experience for viewers using ad blockers

Wikia is not accessible if you've made further modifications. Remove the custom ad blocker rule(s) and the page will load as expected.