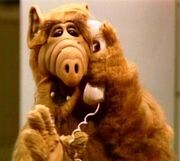 Alien refers to anything that is foreign from an established environment. In most cases, the term applies to either one of two different groups. In "real world" parameters, alien can be used to describe a person who either resides or is visiting a country other than the one they were born in. An individual residing in a country without going through the proper processes are illegal aliens and most governments tend to frown on these people.
The other, and decidedly more interesting term for alien, applies to critters from another planet. Also known as extraterrestrials, ALFs or ETs, these interplanetary visitors come in all shapes and sizes and dare I say it, multiple genders [shudder]. Television shows that showcase or include aliens from another planet or dimension fall into the science fiction genre.
Examples
Edit
Progams with aliens
Edit
| Program | Description |
| --- | --- |
| 3rd Rock from the Sun | The Solomon family. They assume human form and reside on Earth to study Earth's people and culture. |
| ALF | Gordon Shumway, wise-cracking, furry exile from the planet Melmac, comes to stay with the Tanner family where he creates a lot of tension and tries to eat their cat. |
| Andromeda | Recurring alien species include the humanoid Nietzscheans and the cannibalistic Magog. |
| Neighbors, The | The Weaver family move into a gated community populated with aliens from the planet Zabvron. |
| Star Trek | Recurring aliens include Vulcans, Klingons and Romulans. |
Alien characters
Edit
This is not an effort to create a complete, comprehensive list, so don't go apeshit trying to find every alien that has ever appeared in a TV show.
See also
Edit
Ad blocker interference detected!
Wikia is a free-to-use site that makes money from advertising. We have a modified experience for viewers using ad blockers

Wikia is not accessible if you've made further modifications. Remove the custom ad blocker rule(s) and the page will load as expected.