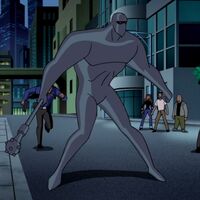 Amazo is the name of a fictional robot character featured in comic books published by DC Comics. The character was created by writer Gardner Fox and artist Mike Sekowsky and first appeared in The Brave and the Bold #30 in July, 1960. It first appeared in television as an animated character on Justice League in the third episode of season two, "Tabula Rasa (Part 1)".
Amazo was the creation of a scientist named Professor Arthur Ivo, and was appropriated by Lex Luthor. Through the use of nanotechnology, Amazo was able to replicate the superhuman abilities of anyone he came into contact with, which included the full battery of powers of the entire Justice League.
On Justice League, Amazo's name is also spelled out as A.M.A.Z.O., though the acronym does not appear to have any meaning.
Amazo was first introduced as a solid grey android. As it evolved, it took on a golden hue.
A second Amazo robot was created by Lex Luthor himself and had his own face.
Ad blocker interference detected!
Wikia is a free-to-use site that makes money from advertising. We have a modified experience for viewers using ad blockers

Wikia is not accessible if you've made further modifications. Remove the custom ad blocker rule(s) and the page will load as expected.