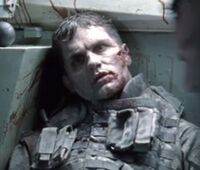 The Atlanta tank soldier is a fictional military character and a minor character featured on the AMC survival horror series, The Walking Dead. Played by actor Sam Witwer, he appeared in the second episode of season one, "Guts".
The Atlanta tank soldier was a male member of the United States Army with dark hair who appeared to be in his late twenties or possibly early thirties. He was part of the unit sent to Atlanta in response to the zombie outbreak in 2010. The means by how this individual died are unclear.
Survivor Rick Grimes entered the tank to avoid being eaten by walkers. He took note of the dead man leaning against the controls, but did not consider him a threat. At this time, Rick began communicating over a C.B. with Glenn Rhee. Glenn asked him about weaponry, and after doing a count of his own ammo, searched the man for more weapons. He took a hand grenade from the corpse before exiting the tank.
Ad blocker interference detected!
Wikia is a free-to-use site that makes money from advertising. We have a modified experience for viewers using ad blockers

Wikia is not accessible if you've made further modifications. Remove the custom ad blocker rule(s) and the page will load as expected.