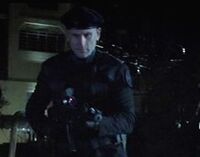 The Authority gate guard is a fictional vampire and a minor character featured on the HBO supernatural horror series True Blood. Played by actor David J. Wright, he was introduced in the season five finale, "Save Yourself". He also appeared in the season six premiere episode, "Who Are You, Really?".
This unnamed Caucasian male was a guard for the Vampire Authority based out of New Orleans, Louisiana. Following the fall of the Authority guardianship, surviving vampire prisoners and several others made a desperate effort to escape from the facility, after Bill Compton was reborn as a power-mad monster. Sam Merlotte raced outside with an injured Luna Garza and her daughter, Emma. He could no longer help her, and Luna died from her injures. Sam promised to protect Emma and kept running. Moments later, the gate guard came upon Luna's body and confirmed that she was dead.
Ad blocker interference detected!
Wikia is a free-to-use site that makes money from advertising. We have a modified experience for viewers using ad blockers

Wikia is not accessible if you've made further modifications. Remove the custom ad blocker rule(s) and the page will load as expected.