This is the
Barry Allen
disambiguation page.
The following is a list of links to pages that might share the same title.
(This template will categorize articles that include it into Category:Disambiguations.)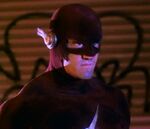 Barry Allen is the human alter ego of the DC Comics superhero The Flash. The character was created by writer Robert Kanigher and artist Carmine Infantino and first appeared as the feature spotlight Showcase #4 in September-October, 1956. Barry Allen was a forensics scientist who was doused with chemicals after a freak lightning bolt struck the display stand in his laboratory, granting him the ability to move at super-speed. Once regarded as the slowest human being on the planet, Barry subsequently earned himself the sterling sobriquet, "The Fastest Man Alive".
Barry Allen has been portrayed in various formats in TV programs over the years, both in live-action features as well as animated projects.
Characters
Edit
Incomplete
Ad blocker interference detected!
Wikia is a free-to-use site that makes money from advertising. We have a modified experience for viewers using ad blockers

Wikia is not accessible if you've made further modifications. Remove the custom ad blocker rule(s) and the page will load as expected.