"Shadow of the Bat (Part 1)" is the first episode of season two of the superhero adventure program Batman: The Animated Series and the sixty-first episode of the series overall. It was directed by Frank Paur with a script written by Brynne Stephens. The episode first aired on FOX Kids on Monday, September 13th, 1993.
Synopsis
Edit
Appearances
Edit
Featured characters
Supporting characters
Villains
Minor characters
Organizations
Races
Locations
Items
Vehicles
Note: The voice cast list and the characters they play are indicated below as they are presented in the closing credits of the episode.
Notes & Trivia
Edit
This episode is production code number: 157.
This is the first appearance of Deputy police commissioner Gil Mason.
Renee Montoya appears in this episode, but has no speaking lines.
Allusions
Edit
Bloopers
Edit
There are no bloopers available for this episode at this time. Be the first to add some! Just click on the edit tab under the section heading and start typing. A blooper is any revealing mistake that can be found within the episode that the production crew may have missed during editing. This can range from inconsistent lines of dialogue to visible production equipment in the shot to mis-spoken lines of dialogue, or... dare we say it? A wardrobe malfunction.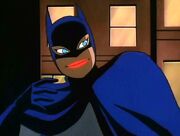 ....
Rupert Thorne: Come on, then! You're not taking Rupert Thorne without a fight!
....
Gil Mason: And the commissioner and I won't rest till every crime kingpin, hustler and two-bit crook is off the streets.
....
Barbara Gordon: You know, Dad... if you and Gil keep nailing bad guys like this... people will start thinking you two are Batman and Robin.
James Gordon: What can I say? Gil is a Godsend. And he's not bad looking either.
Barbara Gordon: Daaaaad. I just got you to stop treating me like a kid, and now you're trying to marry me off.
....
....
Batgirl: If Batman won't help me, fine. Let's see what Batgirl can do.
....
Robin: Funny, I don't remember a Batgirl in our little club...
....
See also
Edit
External Links
Edit
---

Season Two
This article pertains to an episode from season two of the Batman: The Animated Series television program.
This template will categorize articles that include it into the Batman (1992)/Season 2 episodes category.

Episodes

"Shadow of the Bat (Part 1)" • "Shadow of the Bat (Part 2)" • "Mudslide" • "The Worry Men" • "Paging the Crime Doctor" • "House & Garden" • "Sideshow" • "Avatar" • "Trial" • "Harlequinade"