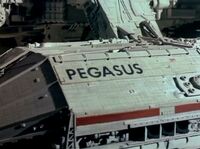 The Pegasus is the proper name of a fictional space vessel featured in the Battlestar Galactica multimedia franchise. There have been two different vessels to share this name, the original being from the 1978-1979 TV series, in which it featured promimently in the two-part episode, "The Living Legend". Former Star Trek: Deep Space Nine executive producer Ronald D. Moore re-imagined the franchise in a darker, grimmer setting and the Pegasus was brought to life once again in the 2004 Battlestar Galactica regular series.
Original series

Remake series

See also
Edit
References
Edit
Ad blocker interference detected!
Wikia is a free-to-use site that makes money from advertising. We have a modified experience for viewers using ad blockers

Wikia is not accessible if you've made further modifications. Remove the custom ad blocker rule(s) and the page will load as expected.