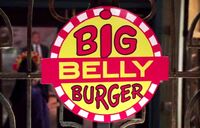 Big Belly Burger is a fictional business featured in the CW Network television series Arrow. It first appeared in the third episode of season one, "Lone Gunmen". Big Belly Burger is a fast food restaurant chain. Carly Diggle worked as a waitress at a Big Belly Burger located in Starling City. Her brother-in-law, John Diggle came into the restaurant with his client, Oliver Queen, and Oliver's best friend, Tommy Merlyn. While John talked with Carly at the counter, Ollie and Tommy took a booth, where they discussed Tommy's recent relationship with Oliver's former girlfriend, Laurel Lance.
When Andy Diggle was a prisoner of Team Arrow, his brother was charged with feeding him, and gave him Big Belly Burgers. (Arrow: A.W.O.L.)
Ad blocker interference detected!
Wikia is a free-to-use site that makes money from advertising. We have a modified experience for viewers using ad blockers

Wikia is not accessible if you've made further modifications. Remove the custom ad blocker rule(s) and the page will load as expected.