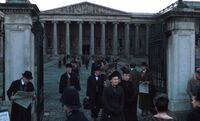 The British Museum is a museum dedicated to human history, art, and culture, located in the Bloomsbury area of London. Its permanent collection, numbering some 8 million works, is among the largest and most comprehensive in existence and originates from all continents, illustrating and documenting the story of human culture from its beginnings to the present.
In the late 19th century, Ferdinand Lyle worked at the British Museum and was the head of the Department of Egyptian and Assyrian Antiquities. He had a butler on hand named Felix, whom Ferdinand believed had poor posture.
On September 23rd, 1891, Sir Malcolm Murray and Vanessa Ives visited his office with a sample of Egyptian hieroglyphs that required translating. He correctly deduced that the writings originated with the Egyptian Book of the Dead. The source of these particular hieroglyphs though were taken from carvings upon the skin of a dead vampire.
Characters
Edit
Appearances
Edit
Ad blocker interference detected!
Wikia is a free-to-use site that makes money from advertising. We have a modified experience for viewers using ad blockers

Wikia is not accessible if you've made further modifications. Remove the custom ad blocker rule(s) and the page will load as expected.