"Planet of the Slave Girls" is the second episode of season one of the American science fiction television series Buck Rogers in the 25th Century. The series is based on the original Buck Rogers comic strip created by Philip Francis Nolan. The episode was directed by Michael Caffey with a script written by Steve Greenberg, Aubrey Solomon, and Cory Applebaum. It first aired on ABC on Thursday, September 27th, 1979.
Starring
Edit
Guest Starring
Edit
Co-Starring
Edit
Notes & Trivia
Edit
This episode is production code number S01E02.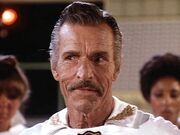 Actor Buster Crabbe is famous for being the original Flash Gordon in the old Flash Gordon serial films by Republic Pictures. This is one of his final television acting works.
....
....
Doctor Theopolis: We're next, Twiki! [the tunnel starts lighting up toward them, indicating it is time to launch] Here we go! [Twiki hits the throttle, and the starfighter accelerates out of the launch bay]
Twiki: Geronimo!
....
Buck Rogers: If you call that interference, there's something wrong with your Funk and Wagnalls.
See also
Edit
External Links
Edit