Cerie Xerox is a supporting character from the NBC sitcom series 30 Rock. Played by actress Katrina Bowden, she was introduced in the series' pilot episode and has made numerous appearances throughout the entirety of the series' run.
Overview
Edit
Cerie Xerox is the personal assistant to Liz Lemon, head writer of the comedy variety series TGS with Tracy Jordan. She works from behind a desk outside of the writers room at the NBC Studios building at 30 Rockefeller Plaza in Manhattan, New York. Cerie is a young and attractive woman known for her friendly, good-natured sex appeal and her proclivity for wearing provocative clothing.
Biography
Edit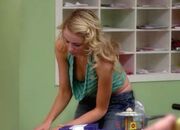 Cerie usually worked outside the writers room, but occasionally she has been called upon to perform meager chores inside the room itself, much to the delight of the male members of Liz' crew. These chores often required her to bend over, revealing her cleavage, or enabling others to stare at her backside. Liz grew frustrated with this and informated Cerie that her wardrobe (or lack thereof in most cases) was distracting the other staff members. At the very least, she insisted that she should wear a bra. Cerie complied, but only barely and continued to wear tight-fitting clothes that encouraged ogling by the others.
Liz finally got fed up with this and took Cerie down to the wardrobe to get her some proper attire. In exchange, Cerie convinced Liz to change her outfit as well, in favor of something she believed would make her more sexually appealing. Liz reluctantly agreed, but strutting about in a slinky dress bearing the words "Dirty Diva" only earned her jeers from her colleagues. (30 Rock: Jack the Writer)
Notes & Trivia
Edit
The character of Cerie Xerox was created by series showrunner Tina Fey.
Her character is usually only credited as Cerie.
Was engaged to marry a man named Aris. Presumably, Aris drank Snapple. (30 Rock: The Baby Show)
See also
Edit
External links
Edit
References
Edit
---