Includes a running list of characters who are only known by the name of Chloe.
Don't Trust the B---- in Apartment 23
Edit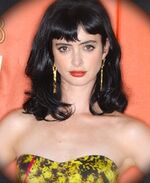 Chloe, last name unknown, lives in apartment 23 in New York City, New York. And yes... she's a bitch. Her parents are Scott and Karen. Her best friends are June and James Van Der Beek. She is uncouth, wildly irresponsible, and thoughtless of others, though at the same time, can actually be quite accommodating when it comes to the needs of her friends.
Ad blocker interference detected!
Wikia is a free-to-use site that makes money from advertising. We have a modified experience for viewers using ad blockers

Wikia is not accessible if you've made further modifications. Remove the custom ad blocker rule(s) and the page will load as expected.