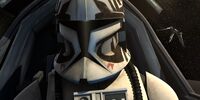 A clone is a biological duplicate of a living organism down to the genetic level. The cultivated organism is developed using macromolecular DNA that originates from the source. The science and study of clone structure is called cloning. The clone organism may be something as small as a strand of DNA, an organ, a limb and up to and including entire life forms such as people and animals. In many cases, clones are genetically modified so that they age at an accelerated rate. In other examples, clones may be created by mixing genetic material from what would otherwise be considered incompatible sources. Clones are a popular storytelling convention in science fiction and have been used in nearly all aspects of the medium.
In the 1961 BBC television series A for Andromeda, a supercomputer created a clone of a lab researcher named Christine and aged her to adulthood whereupon she adopted the name Andromeda. In the Star Wars mythos, clones play a major part of the prequel trilogy which is often referred to as the "Clone Wars".
On the Syfy series Defiance, the Omec known as Kindzi created a clone of Meh Yewll, which she used as prey to satisfy her need for hunting. This took place in episode 3x09, "Ostinato in White".
Characters
Edit
See also
Edit
Ad blocker interference detected!
Wikia is a free-to-use site that makes money from advertising. We have a modified experience for viewers using ad blockers

Wikia is not accessible if you've made further modifications. Remove the custom ad blocker rule(s) and the page will load as expected.