Includes a running list of characters who are only known by the name of Danielle.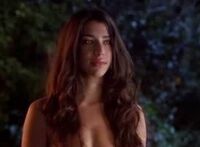 Danielle was a Caucasian woman with long brown hair who appeared to be in her early to mid twenties. She was a werewolf and lived in Shreveport, Louisiana. She was one of the wolves under the leadership of packmaster Marcus Bozeman. After Bozeman was killed, Danielle was present during the ritual in which Alcide Herveaux became the new packmaster. Danielle was presented to him and walked off into the woods completely naked where they became intimate with one another. Alcide's occasional lover, Rikki Naylor, interrupted the activity to assert her dominance over Danielle, reminding Alcide, "I'm your number one bitch". After which, they engaged in a threesome with Rikki forcing Danielle to perform fellatio on Alcide. This was certainly not the worst day in Alcide's life.
Ad blocker interference detected!
Wikia is a free-to-use site that makes money from advertising. We have a modified experience for viewers using ad blockers

Wikia is not accessible if you've made further modifications. Remove the custom ad blocker rule(s) and the page will load as expected.