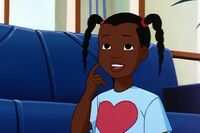 Danitra Evans is a fictional child featured in the DC Animated Universe. She appeared on Superman: The Animated Series in the episode, "The Last Son of Krypton (Part 2)" where she was voiced by Miracle Vincent.
Danitra Evans was a young black girl who lived in Metropolis. She was the very first person in the city to have their life saved by Superman. The story of Danitra's rescue made television news and she was interviewed by a reporter.
Ad blocker interference detected!
Wikia is a free-to-use site that makes money from advertising. We have a modified experience for viewers using ad blockers

Wikia is not accessible if you've made further modifications. Remove the custom ad blocker rule(s) and the page will load as expected.