Dark Shadows Chronology
This article relates to the timeline of events presented in the Dark Shadows television and film franchises. This template will categorize articles that include it into the Dark Shadows/Chronologies category.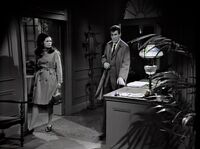 Burke Devlin meets with private investigator Wilbur Strake whom he had hired to keep tabs on the Collins family. (DS 1) (DS 2)
Victoria Winters meets Roger Collins. Roger grows upset when she mentions the name Burke Devlin. (DS 2)
---
Ad blocker interference detected!
Wikia is a free-to-use site that makes money from advertising. We have a modified experience for viewers using ad blockers

Wikia is not accessible if you've made further modifications. Remove the custom ad blocker rule(s) and the page will load as expected.