Includes a running list of characters who are only known by the name of Debbie.
Agents of S.H.I.E.L.D.
Edit
Debbie was a young woman who worked as a project head for Project Centipede - a top-secret think tank aimed at the development and enhancement of super-powers in gifted individuals for commerical use. Debbie's work held the interests of several august bodies including Hydra and Cybertek. Debbie's team appropriated the extremis enhancile and used it to bolster Mike Peterson's superhuman strength. This work earned her the attention of S.H.I.E.L.D., though the failed at determining Debbie's involvement following their initial encounter with Peterson. (AoS: Pilot) Debbie had an operative named Raina go to Hong Kong to acquire a man named Chan Ho Yin, who had pyrokinesis. Chan Ho Yin's abilities enabled him to survive being injected with the otherwise unstable extremis. However, Debbie's work on Chan (dubbed "Scorch"), caused him to become murderously insane. He stalked Debbie down a corridor and completely incinerated her with a blast of plasma. (AoS: Girl in the Flower Dress)
Rizzoli & Isles
Edit
Debbie is a minor fictional character who appeared on the TNT crime drama series Rizzoli & Isles. Played by actress Amaris Davidson, she appeared in the second episode of season six, "Bassholes".
Terminator
Edit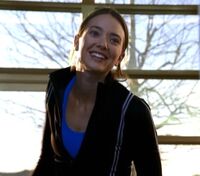 Debbie is a fictional babysitter and a minor character featured on Terminator: The Sarah Connor Chronicles. Played by actress Austin Highsmith, she made a single appearance in episode 2x21, "Adam Raised a Cain". Debbie was an employee of Catherine Weaver and was hired as a nanny for her "daughter", Savannah Weaver. Debbie allowed a water delivery guy access to the Zeira Corp building, unaware that he was a T-888 Terminator. She found on the truth soon enough when the water delivery guy shot her in the head.
Wonder Woman
Edit
Debbie is a fictional woman featured on the CBS television series The New Adventures of Wonder Woman. Played by actress Kristin Larkin, she appeared in the two-part season two episode, "Mind Stealers from Outer Space". Debbie and her boyfriend, Johnny, were two blonde-haired youths, both of whom had been taken over mentally by the alien race known as the Skrill, which brought them into conflict with the super-hero known as Wonder Woman.
Ad blocker interference detected!
Wikia is a free-to-use site that makes money from advertising. We have a modified experience for viewers using ad blockers

Wikia is not accessible if you've made further modifications. Remove the custom ad blocker rule(s) and the page will load as expected.