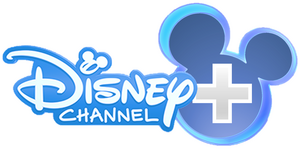 Disney Channel Plus is an upcoming American commercial-free digital cable television network that is owned by the Disney Channels Worldwide unit of the Disney–ABC Television Group, itself a unit of the Disney Media Networks division of The Walt Disney Company.
Programming List
Edit
Live-action
Edit
Welcome to Pooh Corner (TV-G)
Dumbo's Circus (TV-G)
Mickey Mouse Club (TV-G)
Dinosaurs (TV-G)
EPCOT Magazine (TV-G)
Sonny with a Chance (TV-G)
The Book of Pooh (TV-G)
Adventures in Wonderland (TV-G)
Lizzie McGuire (TV-G)
That's So Raven (TV-G)
Honey, I Shrunk the Kids: The TV Show (TV-G)
Wizards of Waverly Place (TV-G)

Muppets Tonight (TV-G)
Fraggle Rock (TV-G)
The Muppet Show (TV-G)
Bunnytown (TV-G)
Jim Henson's Creature Shop Challenge (TV-PG)
Hannah Montana (TV-G)
Groundling Marsh (TV-G)
Under the Umbrella Tree (TV-G)
Road to Avonlea (TV-PG)
Zorro (TV-PG)
Flash Forward (TV-G)
House of Mouse (TV-Y7)
Muppet Babies (1984) (TV-Y7)
Mickey Mouse Works (TV-Y7)
The Lion King's Timon and Pumbaa (TV-Y7)
The Buzz on Maggie (TV-Y)
Darkwing Duck (TV-Y7)
Star vs. the Forces of Evil (TV-Y7)
Jungle Cubs (TV-Y7)

Happily Ever After: Fairy Tales for Every Child (TV-Y7)
Mickey Mouse (TV-Y7)
The Itsy Bitsy Spider (TV-Y7)
The Oz Kids (TV-Y7)
Kim Possible (TV-Y7)
The Emperor's New School (TV-Y7)
Bibi Blocksberg (TV-Y)
Bibi and Tina (TV-Y)
Ad blocker interference detected!
Wikia is a free-to-use site that makes money from advertising. We have a modified experience for viewers using ad blockers

Wikia is not accessible if you've made further modifications. Remove the custom ad blocker rule(s) and the page will load as expected.