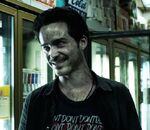 A drug addict is someone who is addicted to drugs. On the "Viper" episode of the FOX Network television series Gotham, a man named Benny made money by sitting on the steps of a building playing his guitar. A sign on top of his guitar case read, "No need to lie. Need money for drugs". Benny got more than he expected when a man named Stan Potolsky dropped a vial of Viper in his guitar case, which gave Benny superhuman strength for a few hours before ultimately killing him.
Characters
Edit
See also
Edit
Ad blocker interference detected!
Wikia is a free-to-use site that makes money from advertising. We have a modified experience for viewers using ad blockers

Wikia is not accessible if you've made further modifications. Remove the custom ad blocker rule(s) and the page will load as expected.