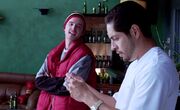 A drug dealer is someone who illegally purchases, distributes and resells narcotics for a living. This can range from anything such as a street level nickel-and-dime pot dealer to members of a major international cartel. Popular unlawful drugs of choice often include marijuana, heroin, cocaine and crystal meth. As most of these drugs are highly addictive, it goes without saying that repeat business is usually very strong for a competent drug dealer. Then of course you get dumbasses like Jesse Pinkman over on Breaking Bad, who couldn't sell a life preserver to a drowning man without the aid of teacher-turned-meth cook Walter White.
Characters
Edit
Ad blocker interference detected!
Wikia is a free-to-use site that makes money from advertising. We have a modified experience for viewers using ad blockers

Wikia is not accessible if you've made further modifications. Remove the custom ad blocker rule(s) and the page will load as expected.