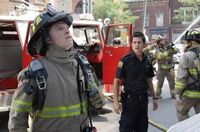 A firefighter, also referred to be the gender-specific title, fireman, is an individual who fights fires. In the olden days, firefighters literally had to fight fires in hand-to-hand combat (according to Family Guy), but modern processes have improved upon their methods, enabling them to use hoses, axes, extinguishers and big red trucks with loud sirens. One tradition maintains that firefighters usually hang out at a firehouse whenever there is nothing going on, and they almost always have a pet Dalmation hanging about.
Characters
Edit
Ad blocker interference detected!
Wikia is a free-to-use site that makes money from advertising. We have a modified experience for viewers using ad blockers

Wikia is not accessible if you've made further modifications. Remove the custom ad blocker rule(s) and the page will load as expected.