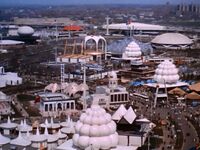 The Gotham City World's Fair is a fictional event featured in the Batman multimedia franchise. Specifically, it is associated with the original live-action Batman television series that aired on ABC from 1966 to 1968. The Gotham City World's Fair was shown in the opening scene of the pilot episode of the show, "Hi Diddle Riddle", and gave viewers the first live-action glimpse of Gotham City.
The Gotham City World's Fair was an annual event held in Gotham City, showcasing cultures and festivities from across the globe. One of the notable representatives present at the 1966 World's Fair was the Republic of Moldavia. A Friendship Luncheon was held as part of the Moldavian Fiesta Week event and was hosted by the Moldavian Prime Minister. At the luncheon, the Prime Minister addressed a small assembly of American guests and officiated the ceremonial cutting of the "Friendship cake", which was interrupted by the shocking exploits of the Riddler. When the Prime Minister attempted to cut the cake, it exploded, releasing a small parachute with a riddle attached to it, meant to attract the attention of the Batman. (Batman: Hi Diddle Riddle)
Ad blocker interference detected!
Wikia is a free-to-use site that makes money from advertising. We have a modified experience for viewers using ad blockers

Wikia is not accessible if you've made further modifications. Remove the custom ad blocker rule(s) and the page will load as expected.