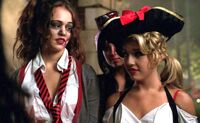 Halloween is a secular holiday celebrated every year on the evening of October 31st. Its origins date back several centuries to the Celtic Feast of Samhain. It was believed that on the night of the festival, the doorway between the lands of the living and the dead were thin, enabling spirits from the afterworld entrance into the real world. While the spirits of beloved family members were welcome, evil spirits were feared and unwelcome. Patrons of the festival warded off evil spirits by wearing frightful masks, which eventually evolved into the custom of wearing decorative costumes on Halloween night. In modern years, the tradition of Halloween is celebrated primarily by children who dress up in costumes and walk from house to house intoning the words "Trick or Treat". As per the custom, the owner of the household was obliged to reward the child with a prize, usually in the form of candy. Halloween is celebrated by adults as well, who regularly attend costume parties on the week of Halloween either at personal residences or at bars, night clubs or theme parks. Adult Halloween parties gives men the chance to wear cavemen costumes to show off their pecs, and women the opportunity to wear slutty versions of a Catwoman costume.
Universal Studios hosts a Halloween celebration throughout the entire month of October called Halloween Horror Nights. Many horror-themed fan conventions also take place during this time, in which attendees are encouraged to arrive in costume where they have the opportunity to meet and get autographs from famous horror film cast members.
Appearances
Edit
Ad blocker interference detected!
Wikia is a free-to-use site that makes money from advertising. We have a modified experience for viewers using ad blockers

Wikia is not accessible if you've made further modifications. Remove the custom ad blocker rule(s) and the page will load as expected.