Includes a running list of characters who are only known by the name of Harry.
Batman (1966)
Edit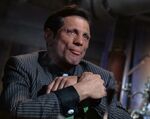 Harry is a fictional henchman featured in the original live-action Batman television series, which aired on ABC from 1966 to 1968. Played by actor Allen Jaffe, he appeared in the first two episodes of the series, "Hi Diddle Riddle" and "Smack in the Middle".
Harry was one of the top henchmen for the Molehill Mob, which was a criminal gang employed by the Riddler. While working for the Riddler, Harry mostly associated with the group's only female member, Molly. After stealing a bunch of high-valued merchandise, Harry warned Molly not to eat too much caviar, citing how it might affect her figure.
Harry was part of a clever plot to trap the Batman. Disguised as a bartender, he began working the bar at the What a Way to Go-Go discotheque. Batman came in and ordered a glass of orange juice from the bar, while engaging in small talk with a patron (who happened to be Molly). Harry spiked Batman's drink, which severely impacted the Caped Crusader's judgment, but not his dancing ability. Batusi soon followed.
Ad blocker interference detected!
Wikia is a free-to-use site that makes money from advertising. We have a modified experience for viewers using ad blockers

Wikia is not accessible if you've made further modifications. Remove the custom ad blocker rule(s) and the page will load as expected.