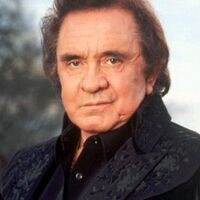 J.R. "Johnny" Cash was an American country-western singer and songwriter. He was born in Kingsland, Arkansas on February 26th, 1932 and died in Nashville, Tennessee on September 12th, 2003 at the age of 71. He is known for several chart-topping songs such as "Ring of Fire", "Folsom Prison Blues" and "I Walk the Line". Cash was known for his trademark dark ensemble, earning him the nickname, The Man in Black.
Johnny Cash has been referenced multiple times on the Syfy Original Series Defiance. In the beginning of the series' pilot episode, the characters of Joshua Nolan and Irisa Nyira are driving a roller while singing "Jackson", which was a song that Cash performed as a duet with future wife June Carter, which was actually a cover of a 1963 song by Billy Edd Wheeler and Jerry Leiber. [1][2]
In season three of the show, the Castithan militia leader General Rahm Tak expressed his appreciation of Earth music, citing an affinity towards Johnny Cash. [3]
In a later episode, Joshua Nolan was telling Irisa about his older sister Rebecca Nolan and described her as the sort of girl who preferred Johnny Cash while all of her friends were listening to Taylor Swift. [4]
References
Edit
Ad blocker interference detected!
Wikia is a free-to-use site that makes money from advertising. We have a modified experience for viewers using ad blockers

Wikia is not accessible if you've made further modifications. Remove the custom ad blocker rule(s) and the page will load as expected.