Includes a running list of characters who are only known by the name of Lacey.
Preacher
Edit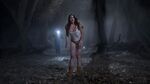 Lacey was a young brunette woman from Annville, Texas. She was a prostitute who worked for a madam named Mosie at a brothel owned by Odin Quincannon. Many of the male employees of Quincannon Meat & Power enjoyed spending their evenings with the prostitutes, which also included activities beyond just sexual affairs. They enlisted them to serve as targets in their paintball wars, which they conducted on and near the Quincannon cattle fields. One of the brothel's regular customers, Clive, chased Lacey across a field in his truck and then followed her on foot when she went into the woods. He cornered her and shot her with a green paintball. The impact drove her back a step and she fell into a massive sinkhole and died. Odin Quincannon had his men use a crane to retrieve the body. Sheriff Hugo Root was on-site as Lacey's body was pulled up out of the ground. Odin Quincannon made an appearance to deliver a speech to the men and women involved in the incident and told the men to be careful with their horseplay and told the women to watch their step. (Preacher: Monster Swamp)
Ad blocker interference detected!
Wikia is a free-to-use site that makes money from advertising. We have a modified experience for viewers using ad blockers

Wikia is not accessible if you've made further modifications. Remove the custom ad blocker rule(s) and the page will load as expected.