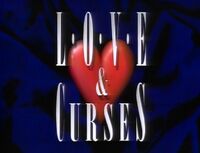 Love & Curses is the name given to the re-titled 1990 romantic horror series She-Wolf of London. After an inaugural fourteen-episode first season set in London, England, the program's European investors pulled out of the show. With a reduced budget, the production crew of the series had the two main characters, Randi Wallace and Ian Matheson, relocated from England to Randi's home town of Los Angeles, California. Under the Love & Curses title, the series ran for what was effectively its second and final season from March 6th, 1991 to April 10th, 1991, totaling only six episodes. All six episodes of the show were included on discs three and four of She-Wolf of London: The Complete Series.
Episodes
Edit
Ad blocker interference detected!
Wikia is a free-to-use site that makes money from advertising. We have a modified experience for viewers using ad blockers

Wikia is not accessible if you've made further modifications. Remove the custom ad blocker rule(s) and the page will load as expected.