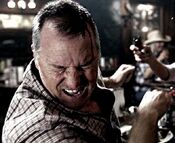 Man in bar is a general term, which refers to a male individual who is a customer at a bar, a lounge, or a restaurant that also includes a bar. Actor Randy Hall was credited as Man in bar in "The First Taste" episode of the HBO supernatural drama series True Blood. The man appears in a flashback scene in which waitress Sookie Stackhouse uses her telepathy to perceive the thought's of the man's wife, which included smashing him across the head with a beer bottle. The woman, apparently, maintained her calm despite whatever the man had done to anger her, and did not hit him with a bottle after all.
Ad blocker interference detected!
Wikia is a free-to-use site that makes money from advertising. We have a modified experience for viewers using ad blockers

Wikia is not accessible if you've made further modifications. Remove the custom ad blocker rule(s) and the page will load as expected.