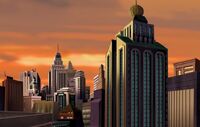 Metropolis is a fictional city featured in comic books published by DC Comics. It is associated with the character of Superman and appears in every aspect of media relating to this character. Notable locations include the Daily Planet, LexCorp Tower, and S.T.A.R. Labs.
Adventures of Superman
Edit
Residents

Super Friends
Edit
DC Animated Universe
Edit
Residents

Lois & Clark
Edit
Smallville
Edit
Residents

Superboy
Edit
Residents

Supergirl
Edit
Residents
Young Justice
Edit
Residents

See also
Edit
External Links
Edit
Ad blocker interference detected!
Wikia is a free-to-use site that makes money from advertising. We have a modified experience for viewers using ad blockers

Wikia is not accessible if you've made further modifications. Remove the custom ad blocker rule(s) and the page will load as expected.