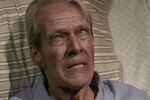 Michael Coleman is a fictional zombie and a minor character featured on the AMC survival horror series The Walking Dead. Played by actor Peter Kulas, he appeared in the seventh episode of season three titled, "When the Dead Come Knocking".
Michael Coleman was a walker that Milton Mamet was experimenting on in Woodbury. He was attempting to determine whether trace memory and human consciousness existed after the subject has transformed. He was actually beginning to make a bit of progress with Michael until Andrea decided that enough was enough and stabbed Michael in the top of the dead, destroying the brain. Milton was quite put out.
Ad blocker interference detected!
Wikia is a free-to-use site that makes money from advertising. We have a modified experience for viewers using ad blockers

Wikia is not accessible if you've made further modifications. Remove the custom ad blocker rule(s) and the page will load as expected.