This is the
Mister X
disambiguation page.
The following is a list of links to pages that might share the same title.
(This template will categorize articles that include it into Category:Disambiguations.)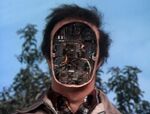 Mister X was a fictional robot character featured in the 1974 sci-fi/action television series The Six Million Dollar Man. Played by actor John Saxon, it appeared in episode 1x04, "Day of the Robot". Mister X was the designation of a robot developed by Doctor Chester Dolenz who was in the employ of a man named Gavern Wilson. Although superhumanly strong, the robot's physical appearance resembled that of U.S. Air Force Major Fred Sloan. The robot was fitted with a life mask, that perfectly duplicated Sloan's facial features, down to hair, complexion and texture. Wilson had the robot replace the actual Fred Sloan so that it could steal a top-secret anti-missile defense system circuit.
Mister X, often shortened to simply "X", is a fictional supporting character featured in the FOX Network television series The X-Files. Played by actor Steven Williams, he first appeared as a disembodied voice in episode 2x02, "The Host". His first full appearance was in episode 2x04, "Sleepless". The character made fourteen appearances in the series in total. Mister X was associated in some way with the Federal government and could be classified as one of the "Men in Black". He became a secret informant of Fox Mulder, replacing Mulder's late predecessor, code name: Deep Throat.
Mr. X redirects to this page.
Ad blocker interference detected!
Wikia is a free-to-use site that makes money from advertising. We have a modified experience for viewers using ad blockers

Wikia is not accessible if you've made further modifications. Remove the custom ad blocker rule(s) and the page will load as expected.