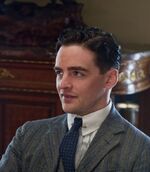 A mobster is a criminal employed by an organized crime cartel or crime family. They may even be the head of said organization (See crime boss). Mobsters perform a variety of services for their parent group, including racketeering, managing underlings, managing whores if part of their mobster duties includes being a pimp, whacking people who need to be whacked, and greasing the palms of local government and law enforcement agencies for special privileges.
Characters
Edit
Ad blocker interference detected!
Wikia is a free-to-use site that makes money from advertising. We have a modified experience for viewers using ad blockers

Wikia is not accessible if you've made further modifications. Remove the custom ad blocker rule(s) and the page will load as expected.