This is the
Mrs. Wallace
disambiguation page.
The following is a list of links to pages that might share the same title.
(This template will categorize articles that include it into Category:Disambiguations.)
Supernatural
Edit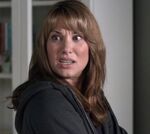 Mrs. Wallace was the wife of Luke Wallace and the mother of an infant son. On October 29th 2008, Mrs. Wallace returned home with some candy for the trick or treaters. While cleaning up after the baby, she warned her husband to stay clear of the candy, assuring him that he could eat as much as he wanted after Halloween. After leaving the room, Luke sneaked some candy anyway, which he would regret for the remainder of his incredibly short life. Mrs. Wallace walked back into the kitchen a few moments later to find her husband lying dead on the floor in a pool of blood. Sam and Dean Winchester, posing as F.B.I. agents, interviewed Mrs. Wallace the following day, where she had learned that her husband suffered from the old urban legend of eating razor blades that had been concealed in Halloween candy. (Supernatural: It's the Great Pumpkin, Sam Winchester)
Ad blocker interference detected!
Wikia is a free-to-use site that makes money from advertising. We have a modified experience for viewers using ad blockers

Wikia is not accessible if you've made further modifications. Remove the custom ad blocker rule(s) and the page will load as expected.