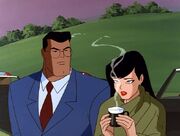 There is a matter of some restructuring going on as it relates to character appearances on programs based on DC Comics properties. Formerly, character appearances were often titled based upon the program they appeared in to distinguish them from similarly named characters from other shows. Going forward, we are attempting to streamline this so that all variations of a DC Comics character will have their appearances listed under single category. In most situations, the same naming convention guidelines will apply as before. The preferred naming convention is to use a character's most commonly used real name in place of a code name. One of the few exceptions to this will be Wonder Woman as her real name is only Diana and that is simply too common a new. As such, her appearances will be categorized as Wonder Woman/Appearances. Other characters however, such as Superman, will be identified by his real name, Kal-El/Appearances.
The following is a list of episode pages that have been reformatted to reflect this new initiative.
Ad blocker interference detected!
Wikia is a free-to-use site that makes money from advertising. We have a modified experience for viewers using ad blockers

Wikia is not accessible if you've made further modifications. Remove the custom ad blocker rule(s) and the page will load as expected.