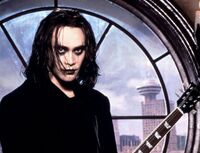 Resurrection represents the ability of a deceased individual to return to life. This process may occur through either scientific means or through occult ritualism, but may also occur as a result of unexplained phenomena. In some cases, the individual is restored fully, in others, they are resurrected as some undead entity. This phenomena occurs mostly in media involving supernatural or paranormal forces. Zombie fiction is the most basic example of seeing the dead brought back to life.
In television
Edit
Being Human (US): Josh Levinson and Nora Sargent employ the aid of a witch to resurrect the ghost of their friend Sally Malik. Through this process, they also resurrect Stevie Atkins and Nicholas Fenn.
"The Soul Can't Rest": One year after his murder, musician Eric Draven is resurrected from the dead to avenge his own death as well as that of his girlfriend, Shelly Webster.
"See": Cassidy kills vampire hunters Fiore and DeBlanc, but they appear again later on, seemingly no worse for wear.
"The Possibilities": Cassidy runs over Fiore and DeBlanc with a truck, but once again, they reconstitute themselves in new bodies.
Ad blocker interference detected!
Wikia is a free-to-use site that makes money from advertising. We have a modified experience for viewers using ad blockers

Wikia is not accessible if you've made further modifications. Remove the custom ad blocker rule(s) and the page will load as expected.