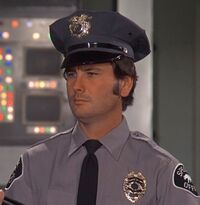 A security guard is usually a privately and formally employed person who is paid to protect property, assets, or people. Often, security officers are uniformed and act to protect property by maintaining a high visibility presence to deter illegal and inappropriate actions, observing (either directly, through patrols, or by watching alarm systems or video cameras) for signs of crime, fire or disorder; then taking action and reporting any incidents to their client and emergency services as appropriate.
Characters
Edit
See also
Edit
Ad blocker interference detected!
Wikia is a free-to-use site that makes money from advertising. We have a modified experience for viewers using ad blockers

Wikia is not accessible if you've made further modifications. Remove the custom ad blocker rule(s) and the page will load as expected.