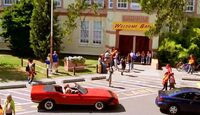 Smallville High School is a public school for grades 9-12. It is located in the town of Smallville, Kansas. Clark Kent attended school here, as did Lana Lang, Chloe Sullivan, Pete Ross, Whitney Fordman and many others. Lois Lane even had to return to high school to take classes to get a diploma. Chloe Sullivan was the head of the school newspaper, The Torch, and took a keen interest in tackling stories of a bizarre nature, which she spotlighted on her bulletin board which she called the Wall of Weird.
Superman: The Animated Series
Edit
Students
Faculty
Smallville
Edit
Students
Faculty
Ad blocker interference detected!
Wikia is a free-to-use site that makes money from advertising. We have a modified experience for viewers using ad blockers

Wikia is not accessible if you've made further modifications. Remove the custom ad blocker rule(s) and the page will load as expected.