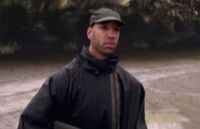 The stasis net sentry is a fictional minor character featured in the Defiance multimedia franchise. Played by actor Deklon Roberts, he appeared in the second part of the two-part pilot episode of the series.
The sentry was an unnamed uniformed black man and a resident of Defiance, Missouri. He was tasked with guarding a section of the stasis net. The Indogene known as Ben Daris approached him. The sentry knew Ben as the assistant to newly appointed Mayor Amanda Rosewater, but did not know that Ben was also a traitor. Ben shot and killed the sentry with a Cold-fire weapon. (Defiance: Pilot (Part 2))
Ad blocker interference detected!
Wikia is a free-to-use site that makes money from advertising. We have a modified experience for viewers using ad blockers

Wikia is not accessible if you've made further modifications. Remove the custom ad blocker rule(s) and the page will load as expected.