Includes a running list of characters who are only known by the name of Stefan.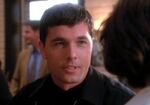 Stefan was the human alias used by a low-level demons named Javna. Javna required the life energy of others in order to maintain a youthful appearance. As Stefan, he posed as a world-class famous photographer, who often employed young female models in photo-shoots of sports cars. Capturing these women, he bound them to a table where he projected energy from his eyes that stole their youth, transforming him from his normal demonic visage into that of an attractive young man. The effect was not fatal, but was otherwise permanent so long as Javna was still active. Stefan enticed several women into his lair including Brittany Reynolds, a redhead named Tia, and Phoebe Halliwell. When Phoebe's sisters learned the truth about Javna, they pooled together their power as witches to invoke a spell to destroy him. Once Javna ceased to exist, the advanced aging effects reversed themselves. (Charmed: I've Got You Under My Skin)
Ad blocker interference detected!
Wikia is a free-to-use site that makes money from advertising. We have a modified experience for viewers using ad blockers

Wikia is not accessible if you've made further modifications. Remove the custom ad blocker rule(s) and the page will load as expected.