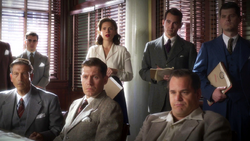 The Strategic Scientific Reserve (SSR) is a fictional government spy agency featured in the Marvel Cinematic Universe. It first appeared in the 2011 feature film, Captain America: The First Avenger. It played a key role in the 2015 miniseries event, Agent Carter on ABC. The Strategic Scientific Reserve, or SSR, was a top-secret Federal law-enforcement agency founded by Chester Phillips during World War II. It operated in support of the Allied Nations during the war and was headquartered in Washington, D.C. in the United States. One of the S.S.R.'s most dangerous adversaries at this time was the German subversive organization known as HYDRA. In addition to employing trained military officers to serve as front-line agents such as Peggy Carter, the Strategic Scientific Reserve also recruited civilian specialists such as millionaire industrialist and weapons designer Howard Stark. After the war, Howard Stark was framed for treason and members of the S.S.R.'s New York City office believed that he was selling weapons to foreign agencies. At the behest of Stark himself, Agent Peggy Carter was asked to look into the matter in the hopes of clearing his name. Such a task proved extremely daunting for Carter, owing largely to sexual bureaucracy and the fact that the S.S.R. were actively operating to sanction Stark. Howard was eventually cleared and he used his power and influence to become the head of the Strategic Scientific Reserve. By the late 1940s and early 1950s, the S.S.R. had evolved into a larger, more influential espionage agency, which came to be known as S.H.I.E.L.D.. Howard Stark appointed Peggy Carter as the first director of this bold new initiative.
Daniel Sousa
Roger Dooley
Ad blocker interference detected!
Wikia is a free-to-use site that makes money from advertising. We have a modified experience for viewers using ad blockers

Wikia is not accessible if you've made further modifications. Remove the custom ad blocker rule(s) and the page will load as expected.