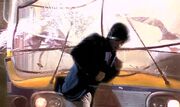 Superhuman durability represents an individual's ability to withstand physical pressure. People who possess this ability possess a physical heartiness beyond that of maximum human potential. This may come in the form of direct physical contact, pressures of depth or altitude or extremes in temperature. Many alien races possess superhuman durability. Some may even be able to withstand the vacuum of outer space. Superhuman durability often comes into play in the genres of superhero fantasy as well as Manga and anime. The ultimate expression of superhuman durability is invulnerability, which means a person cannot be harmed through direct physical contact at all whatsoever.
A prime example of Superhuman durability would be someone like Captain America. Though far from invulnerable, Captain America can endure a massive amount of physical punishment before succumbing - far greater than that of even the strongest athlete.
Characters
Edit
Appearances
Edit
See also
Edit
Ad blocker interference detected!
Wikia is a free-to-use site that makes money from advertising. We have a modified experience for viewers using ad blockers

Wikia is not accessible if you've made further modifications. Remove the custom ad blocker rule(s) and the page will load as expected.