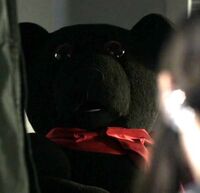 T. Bear is a fictional children's toy featured in the CW Network television series Supernatural. He appeared in the eighth episode of season four titled, "Wishful Thinking".
T. Bear, or Teddy Bear, was a literal teddy bear owned by a young girl from Concrete, Washington named Audrey Elmer. Due to the effects of a mystical wishing well, Audrey wished her teddy bear to come to life. The teddy bear did in fact come to life, but found itself in the midst of an existential crisis at it adapted to the reality of the world. It broke into a liquor store and stole several bottles of alcohol as well as some pornographic magazines. Audrey had to take her wagon and return the stolen property with a note attached to them that said "sorry".
The bear then sequestered itself to a closed room in Audrey's house, sat in a chair and watched news reports on television. Horrified by witnessing reports of random violence, he found himself in a state of great depression. Noted "teddy bear doctors" Sam and Dean Winchester came to the house to inspect the bear. After a brief observation, Sam told Audrey that her bear was suffering from Lollipop disease, which was reputedly very contagious.
The teddy bear later tried committing suicide by blowing his head off with a shotgun, but as he was not a truly living being to begin with, this only resulted in blasting stuffing all over the floor. Eventually, the effects of the wishing well were reversed, and T. Bear went back to being a normal teddy bear (albeit with a hole in the back of his head covered over with tape).
Ad blocker interference detected!
Wikia is a free-to-use site that makes money from advertising. We have a modified experience for viewers using ad blockers

Wikia is not accessible if you've made further modifications. Remove the custom ad blocker rule(s) and the page will load as expected.