Includes a running list of characters who are only known by the name of Tess.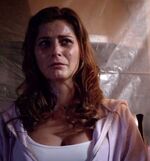 Tess is a fictional character featured on the CW Network television series iZombie. She was played by actress Elysia Rotaru and appeared in the pilot episode of the show. Tess was one of two women who were abducted and psychologically tortured by Seattle police detective Pratt. Homicide investigtor Clive Babineaux managed to track the girls down with some help from a zombie named Liv Moore and rescue her.
Ad blocker interference detected!
Wikia is a free-to-use site that makes money from advertising. We have a modified experience for viewers using ad blockers

Wikia is not accessible if you've made further modifications. Remove the custom ad blocker rule(s) and the page will load as expected.