Includes a running list of characters who are only known by the name of Trevor.
Terminator: The Sarah Connor Chronicles
Edit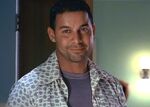 Trevor was a minor character featured on the FOX Network television series Terminator: The Sarah Connor Chronicles. He was played by actor Jon Huertas and appeared in the fourth episode of season two, "Allison from Palmdale". Trevor was the husband of Kacy Corbin and the father of her child.
Ad blocker interference detected!
Wikia is a free-to-use site that makes money from advertising. We have a modified experience for viewers using ad blockers

Wikia is not accessible if you've made further modifications. Remove the custom ad blocker rule(s) and the page will load as expected.