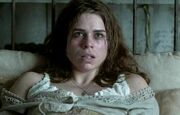 Tuberculosis is an infectious disease that involves bacteria collecting in the lungs, which causes intense coughing, spitting up of blood and increased weight loss. If left untreated, it can be fatal. Historically, Tuberculosis has also been referred to as Consumption because of the noted visual weight loss. It is also referred to by acronym TB.
On the FX Network television series American Horror Story, the season two storyline, "Asylum", featured a place called Briarcliff Manor. Briarcliff Manor was once a tuberculosis ward that had been converted into an asylum for the criminally insane.
On the Showtime television series Penny Dreadful, the prostitute known as Brona Croft suffered from Consumption. When she met Ethan Chandler as the Mariner's Inn, she had a coughing spell and noted to him, "Me lungs are buggered". She then entertained a client named Dorian Gray. During sex, she had a spell and coughed blood onto his face. Instead of disgusting him however, this actually intensified his sexual energy, and he said, "I never fucked a dying creature before. Do you feel things more deeply, I wonder. Do you feel pain?"
Ad blocker interference detected!
Wikia is a free-to-use site that makes money from advertising. We have a modified experience for viewers using ad blockers

Wikia is not accessible if you've made further modifications. Remove the custom ad blocker rule(s) and the page will load as expected.