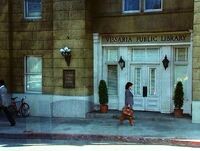 The Vissaria Public Library is a fictional location featured in the 1977-1982 superhero/action series The Incredible Hulk. It appeared in the two-part episode, "The First".
The Vissaria Public Library was located in Vissaria. In addition to books, the library also carried local periodicals such as the Vissaria Daily News. David Banner visited the library and spoke with a janitor, who shed some light on an article that Banner was reading relating to the mysterious Clive house. The article related to a scientist named Doctor Clive, who was under investigation for an incident relating to a green creature. In the janitor's story to David Banner, he said that the creature killed a farmer named Frank Townsend. After which, Clive mysteriously died a few days later. (Incredible Hulk: The First (Part 1))
Ad blocker interference detected!
Wikia is a free-to-use site that makes money from advertising. We have a modified experience for viewers using ad blockers

Wikia is not accessible if you've made further modifications. Remove the custom ad blocker rule(s) and the page will load as expected.