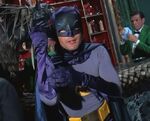 What a Way to Go-Go is a fictional night club featured in the original 1966-1968 live-action Batman television series. It appeared in the premiere episode of the series, "Hi Diddle Riddle".
What a Way to Go-Go was a 1960s-era discotheque catering to the elite of Gotham's high society. The Riddler and the Molehill Mob also used it as a staging ground to lure Batman into a trap. After being tricked into drinking spiked orange juice, Batman was seduced into dancing the Batusi by one of the Riddler's gun molls, Molly. (Batman: Hi Diddle Riddle)
Ad blocker interference detected!
Wikia is a free-to-use site that makes money from advertising. We have a modified experience for viewers using ad blockers

Wikia is not accessible if you've made further modifications. Remove the custom ad blocker rule(s) and the page will load as expected.